If you're planning a tinkerbell birthday party you'll need some cute and adorable tinkerbell invitations to invite all your little fairy friends to the party.
Featuring some of the best tinkerbell invites that you can customize with any words you like.  Or you can make your own, I used rubber stamps, glitter glue and pink paper to make my own.
How to make a tinkerbell birthday invitation
What you will need:
tinkerbell rubber stamps
purple ink pad
fancy edge scissors
pink cardstock paper
fancy pink glitter cardstock paper or any that you like
glue
You can use any size of cardstock paper, I used a piece of pink swirly and glittery piece of cardstock measuring 4.5 by 5.5 inches. With your fancy edge scissors cut a smaller piece of plain paper, I used a 4 by 4.5 inch piece, for the center of the invite. Glue the smaller pink piece on top of the background paper. With my purple ink pad and tinkerbell rubber stamps, I decorated the corners with tinkerbell. I also drew two silver swirls with my glitter glue pen.
Once the invite dries add your party details. You can print them off your computer, use an invitation rubber stamp or use a fancy silver or gold pen to write your details.
Personalized Tinkerbell invitations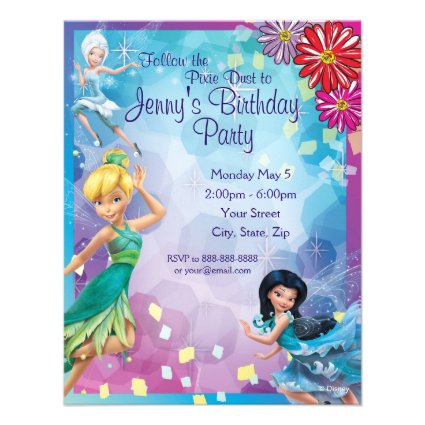 Tinker Bell Birthday Invitation by disney
Make invites using zazzle.com
A fun tinkerbell invite featuring disney fairies that you can personalize with your own custom details!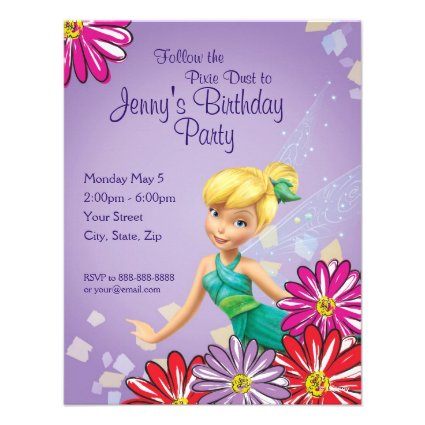 Tinker Bell Birthday Invitation by disney
Design your own printed party invitations from Zazzle.
My favorite part about these tinkerbell invites is that you can even add a picture of the birthday girl.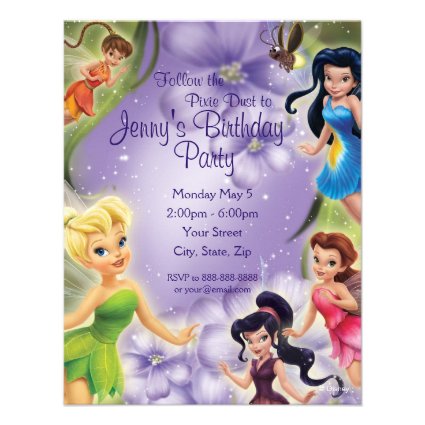 Tinker Bell and Friends Birthday Invitation by disney
Shop for other invitations templates from zazzle.com.